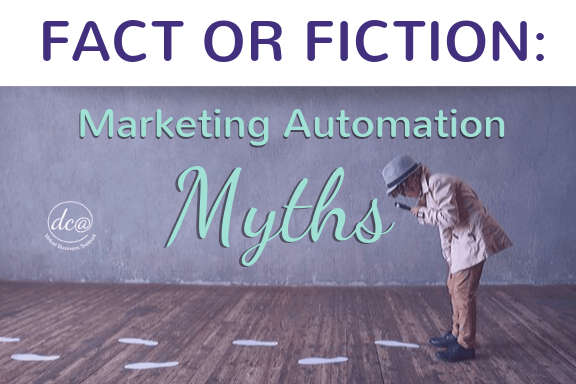 Marketing Automation Myths Debunked
Streamlining is important for the success of any business. Which is why many businesses are turning to marketing automation to assist them. If you've been hiding under a rock, you may not have heard much about these amazing platforms. In a nutshell, they'll automate your marketing, and sometimes sales, activities. If you've been investigating this type of technology, you may have seen or heard mixed reviews. We'd like to set the record straight on what is fact and what is fiction. After all, informed decisions are better for your business.
Myth #1 Marketing Automation is Expensive
As with anything you buy, cost varies across different companies. If you choose a name-brand, you'll be paying for their name. We work with many small businesses, which is why we wanted to find a reputable company that wasn't going to charge enormous fees, just for their name. One that still provided top-notch services for a fraction of the price. That's when we found SharpSpring! With SharpSpring, you'll see an increase of higher quality leads and you'll be able to convert more leads to sales. We are so thrilled with their platform that we became a partner agency, which means when you sign up through us, you'll receive an even larger discount than if you were to sign up directly through SharpSpring. Yes, you read that right! You'll optimize your marketing and spend less than some of the other marketing platforms out there.
Myth #2 Marketing Automation is for Big Companies
While this may have been true in the past, it couldn't be further from the truth today. Automation tools are no longer complex, expensive platforms that only large companies can afford. Marketing automation has improved since it first launched – many of the platforms include CRMs and sales tools, plus a wide variety of social and analytics. The platforms are very user-friendly, allowing those who are not tech sophisticated to use them efficiently. Small and mid-sized businesses can now take advantage of marketing automation without breaking the bank.
Myth #3 You Won't Get the Support You Need
Have you ever signed up with a company and been surprised to find they lacked the support you needed to properly manage the platform? We've all been there, and it's frustrating. This is exactly why we were so thrilled to find a company that cares about their customers. As a partner agency, we support you every step of the way. We are there to answer any and all your questions. We can even develop a cohesive marketing campaign for you if you're short on time or just prefer the experts to handle the work. And, the support doesn't stop there. After developing your campaign, we'll be there to analyze the results and update campaigns as needed.
Myth #4 Marketing Automation is Too Time Consuming
One of the great things about marketing automation is that you are setting up a system that is automated. To give it your best, you must invest in time for the initial setup. You'll create a series of actions that can funnel a lead down the rabbit hole they are interested in. Think about the conversations you've had with your customers and how you've helped them determine the best product for their situation. You'll be doing exactly this! You'll take those conversations and put them into a well thought out and planned campaign, where they lead the way. You'll always be there to stay top of mind and when they are ready, you'll make a sale.
After the initial setup, you'll have those repetitive daily tasks automated. You'll still need to have ongoing fine-tuning of your strategy to make sure you are getting the most out of the platform. The easy to read analytics, allows you to see which campaigns are performing effectively and make informed changes to campaigns.
Myth #5 My Leads Will Instantly Increase Exponentially
Will you see your leads instantly skyrocket? It's not likely because marketing automation is just one piece of the puzzle. The SharpSpring system does put all your leads into the same system, whether they come from ads, blogs, social media, or someone you meet at networking meeting. Plus you have the tools you need to capture your leads using dynamic forms and gated content. SharpSpring even offers anonymous visitor identification. This will increase the odds of reaching those visitors that don't complete your forms initially but may at a later time.
While marketing automation helps to capture leads, you'll need to generate traffic with engaging content. A successful marketing plan will include how you plan to generate traffic as well as capture those leads. Our creative team can help guide you with that if needed.
Myth #6 Marketing Automation is Impersonal and Robotic
To the contrary, marketing automation nurtures your leads with behavioral based automation. You can provide the information that interests you leads and have meaningful interactions with them. You'll be able to achieve TOMA – top of mind awareness, increasing your chances of converting that lead to a customer. If anything, marketing automation will increase the ability to have more meaningful customer relationships.
Now that you know the truth from rumor, how do you think marketing automation fits in with your business? We feel that it can propel businesses forward if used effectively. SharpSpring proves to be an amazing all-in-one system, while saving you time and money. We loved it so much that we recently became a partner agency for SharpSpring and launched these tools for our own business. If you are ready to grow your business, let's chat. Or you can sign up for a 15 minute informational webinar – no pressure just great info.